Fast Response Callback
Enter your details in the form and we will respond immediately.
Fast Response Callback
Enter your details in the form and we will respond immediately.
---
What we do
Unclog Drain Cleaning Service
Plumber for clogged drains and blocked toilet. Fast emergency plumber for drain problems available 24-7 at no extra charge. We'll provide you a free estimate with options and without any hidden costs before we do any work.
Our Drain Plumber can repair:
Clogged Toilet and Blocked Drain
Shower Drain & Bathtub Drain
Bathroom Sink
Kitchen Sink
Slow Drain
Get a Rooter Today
Choice Plumbing Orlando provides with a professional and equipped Rooter Plumber for any drain and sewer blockage. No matter the drain problem, we can fix it.
Schedule Me
Enter your details in the form and we will call you to confirm booking.
Blocked Drain and Slow Drain Cleaning
ask about our NO FIX…NO PAY repair service – includes same-day-service
Have you noticed your toilet, sink or shower isn't draining as quickly as it should?
Our drain cleaning and unclog service can help get the job done fast. We are available 24/7 and our experienced technicians will be at the ready to unclog any troublesome drains in a flash before bigger problems arise like sewage contamination.
With our expertise, we guarantee that all your clogged drains will be clear of debris, so you won't have to worry about any flooding inside your home. Plus, you don't even have to leave the comfort of your own home with our convenient online booking system – just pick a time and date that works for you! Get back to enjoying peace of mind in no time!
Call us today or book an appointment on our website now! All major credit cards accepted. 24/7 emergency drain cleaning and unclog service at 407-422-7443
Drain Cleaning Services:
Clogged Toilet: Unclog blocked toilet and slow draining toilet.
Clogged Sink: Kitchen and bathroom sink slow drain or overflowing problem, including garbage disposal repair.
Clogged Shower: Unclog Shower from hair, soap scum or buildup.
Clogged Bathtub: Any type of tub clog including garden-tub.
Whole House Blockage (Stoppage): When several drains in the home are draining slow or backing-up.  Main drain sewer camera scoping and cleaning.
Methods:
Drain Hydrojetting (Sewer Drainpipe Hydro Jetting)
Hydro-jetting "jetting" service cleans the inside of your sewer pipe from build-up, residue and other materials that cause constriction in order to unclog and relieve your plumbing system from clogs or slow drain.  Think of it as "pressure washing" the inside of your sewer pipe.  Choice Plumbing in Orlando uses a sewer pipe camera to assess the needs for a hydrojet cleaning process and provides the homeowner a before and after view of the inside of their sewer line.  There are many advantages to hydro jetting drain lines, here are some to consider:
Unclogging of the toughest blocks in your drainpipe.
Flushes all the solids and blockage.
Cleans the build-up and constrictions on the drainpipe walls.
Fast, Efficient and Cost Effective.
Environmentally friendly drain cleaning solution.
Drain Snaking (Plumber Snake)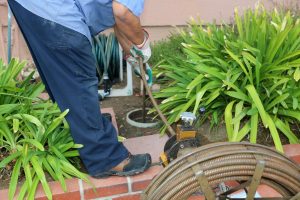 The use of plumber snake with an auger tip has been around for years.  It comes in different forms, shapes, materials and lengths.  Although a plumber snake maybe a solution for sinks and toilets, it will still require a professional that understand how they work in order to be properly used.  A misuse of a plumber snake can cause damage to plumbing fixtures and even drain lines.  A professional plumber understands when to use a manual or powered drain snake with an auger tip that can unclog your drain without damage.  Large power plumber snakes are often inserted from the roof top vent or clean-out access in the homeowner's yard working upstream until they reach the drain's blockage. Drain Snaking Service:
Blocked Toilet and Stoppage
Clogged Toilet Drain
Shower and Bathtub Drain Cleaning

Slow Draining Shower
Slow Draining Bathtub
Shower & Bathtub Drain Backup

Kitchen Sink Drain Cleaning
Drain Video Camera
A drain video camera is inserted into the main sewer drain-line in order to locate and view the source of the problem.  Post cleaning and repair the plumber will re-insert the camera in order to inspect the repair and drain activity. (Seen in the video above)
Unclog Drain Service For:
Toilet Drain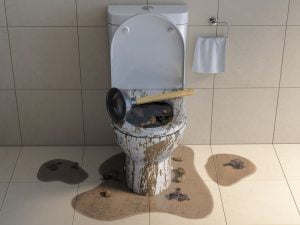 Your toilet backup and overflow are considered a biohazard contaminate.  Choice Plumbing in Orlando has an emergency plumber for all your toilet backup and sewage overflow.  Include sewage overflow recovery, decontamination and disinfecting solutions.  A rapid response will prevent the exposure of hazardous and infectious conditions. If your toilet or home is having a slow draining problem, call a professional plumber near you immediately. Sometime the main sewer line need to be repaired to prevent recurring clog issues.
Common Toilet Drain Problems:
Slow draining toilet
Toilet requires multiple flushes
Frequent needs to plunge your toilet
Toilet stoppage
Toilet drain blockage
Clogged Toilet
Toilet Overflow
"Treat a slow drain before your home is exposed to toilet or sewage contamination, its cheaper and healthier!" ~ Nick Shif, Owner\Operator of Choice Plumbing in Orlando.
Kitchen Sink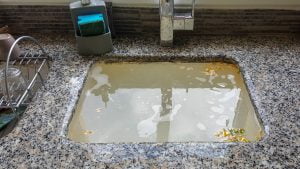 Kitchen sink drains are often clogged from food and grease residue our plumber can find the problem and unclog your sink quickly.  Most of these issues are simple and easy to fix.  Choice Plumbing Orlando is a full-service sewer and drain service company that is available any time 24/7 including any emergency you may have.
Garbage Disposal Repair & Installation
Garbage disposal unit is part of a kitchen sing drain and its often the need when a kitchen sink fails to drain.  The garbage disposal unit is attached to the bottom of your sink and is part of your drain system. The various failures and malfunctions found in garbage disposal often restricts or even cause a complete drain blockage.  Our Plumber is equipped with all the parts and supplies needed for any kitchen sink including a new garbage disposal unit.  Get a free quote on a new Garbage Disposal installation with a 1 year warranty. Garbage Disposal Service:
Garbage Disposal Clogged Drain Cleaning Service
Garbage Disposal Drain Cleaning Service
Garbage Disposal Replacement & Installation
Garbage Disposal Repair Service
Bathroom Sink Drain
Bathroom sink is usually clogged because of hair, soap scum buildup or debris which are stuck in the sink drain causing the water to drain slow or not at all.  Our professional plumbers are trained to inspect and provide the simplest and most affordable sink draining solutions.  Don't stress call our emergency plumber service today for a quick and affordable drain cleaning service in Orlando.
Shower & Bathtub Drain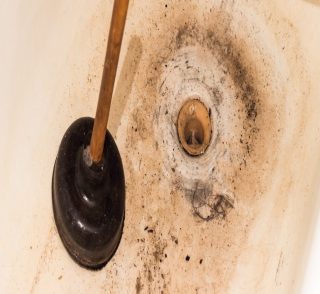 Shower and bathtub drains are often constricted with the combination of hair and residue of soap.  Unlike sink drains, showers and bathtubs do not provide access to the p-trap drain often located in the floor.  If the blockage is in close proximity to the drain a plumber snake would be effective in unclogging the drain otherwise, the plumber must use a power snake from the main sewer drain access point outside the home.  Our shower and bathtub drain cleaning service is accompanied by an in-line drain camera which will pinpoint the location of the blockage and its distance from the access point.