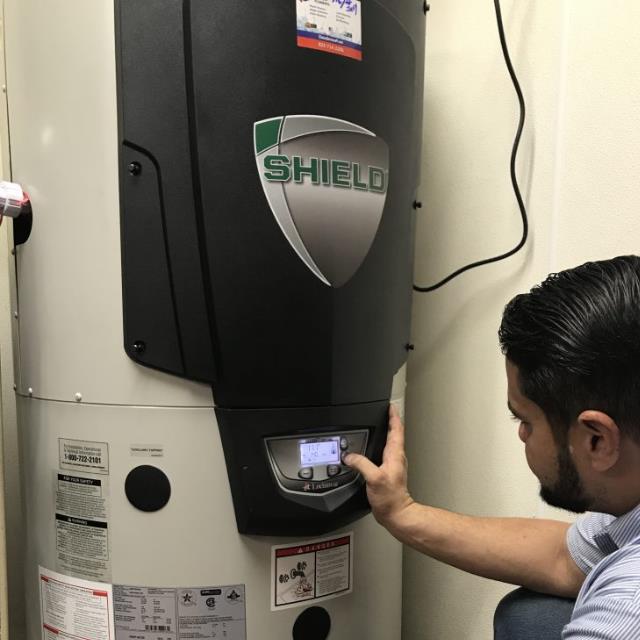 $39.00 Water Heater Repair Diagnostic
Service includes:
Trip & visit fees
Complete diagnostic
Appliance inspection
Detailed report with option
Financing assistance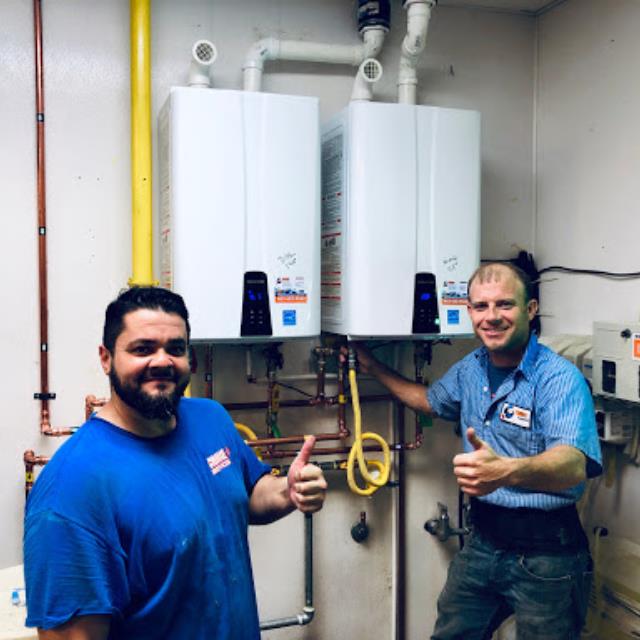 $39.00 Tankless Water Heater Repair Diagnostic
Service includes:
Trip & visit fees
Computer error codes
Complete diagnostic
System inspection
Detailed report with option
Financing assistance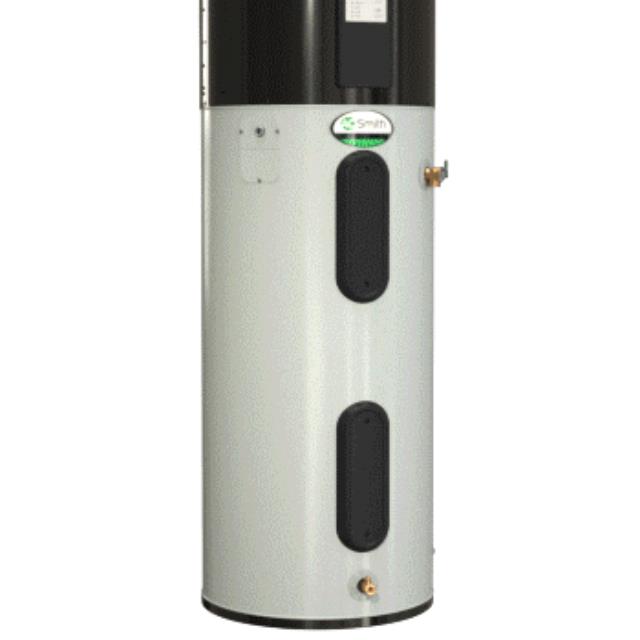 New Water Heater Starting at $20 Per Month
Service includes:
Trip & visit fees
New Water Heater
Installation – Startup
Removal of old unit
Warranty Parts and Labor
Financing assistance
Water Heater Repair & Installation
ask about our $39 repair diagnostic service – includes same-day-service
Water Heater repair and installation by a certified plumbing service near Orlando, FL and in Central Florida.  Get a professional plumber with all the tools and parts to diagnose, repair or replace your hot water heater today.  Water heater tank leak or water heater electric malfunction, we provide same-day-service alleviating the stress, inconvenience or water damage to your home.  Emergency service is available 24 hours a day and 7 days a week.  We fix water heaters fast, with 1 year warranty on parts and labor.
Call our Plumbing Emergency Hotline at407-422-7443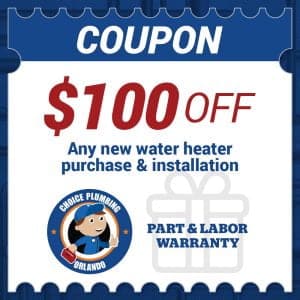 Water Heater 
Water heater repair and installation of any brand or source type (electric or gas) by a certified water heater plumber.  If you have no hot water, your problem may be a bad thermostat, a bad heating element or a leak causing an electrical short. Our plumber is available for fast response service and is certified to provide you with diagnostic and repair. If your water heater is corroded, rusted or expired due to age, we can provide you with a new water heater and installation.
Repair: Any water heater type or brand.
Service: We service all makes and models of water heaters.  Electric or Gas (LP-NG).
Installation: We install your water heater even if you don't buy it from us.  Buy your own water heater and we will install it.
Sales: We sell all major brands of water heaters with warranty.
Emergency Water Heater Repair Service:  24/7 Water Heater Repair Service.  We fix any water heater problem anytime.
Hybrid Water Heater (your best choice) 
Repair and installation of Hybrid Water Heater units.  If you purchased your own hybrid unit from a local store like Home Depot or Lowe's and need only installation and startup, our plumbing service can help.
Hybrid Water Heater is the recommended replacement for your traditional electric tank water heater. Hybrids are much more efficient and have a longer life. What Is a Hybrid Water Heater? 
Call our water heater repair department 24/7 at 407-422-7443
We Fix Electrical Issues
We diagnose and repair electric related issues which cause you to not have hot water.  We diagnose and repair problems such as:
Tripped Breaker
No Hot Water (Heating Element)
No Hot Water (Thermostat)
Water Leak Electric Shortage
Heater Electrical Wiring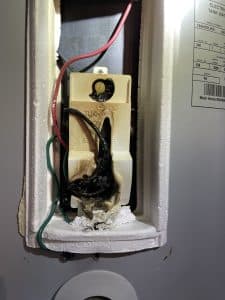 Certified service for the following brands:
If you don't see your brand in the list above, please call our service department for details and availability 407-422-7443
Gas Water Heater
Gas water heater and gas water boiler are dangerous if improperly functioning or maintained by an unqualified technician.  Gas water heaters are more complex than electric water heaters due to safety and fire protection design.  If you have a gas water heater which needs repairs or maintenance, you should seek a plumber that is certified and licensed to work on LP and Natural Gas Water Heaters.
Tankless Water Heater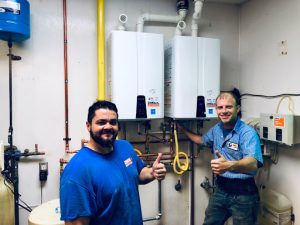 Repair and Service
Certified tankless water heater plumber knowledgeable in tankless systems.  We can provide you a plumber to fix any type or brand.  We can repair heaters located in the following area:
Indoor Units
Outdoor Units
Hybrid Units
Gas Units
Commercial & Restaurant Units
Tankless water heater repair and installation with warranty.
Installation of New Tankless Water Heaters:
Replace your old conventional water heater with a tankless water heater and save money and space.  Tankless water heaters heat water with less energy cost and are compact in size. These units have the ability to serve your entire family or even a busy restaurant.  We are certified and licensed to provide you with sale and installation of the following tankless water heater brands:
Rinnai (recommended)
Navien (recommended)
Rheem
EcoSmart
Stiebel Eltron
Titan
Bosch
If you are considering replacing your conventional tank water heater with a tankless one, call us for a free estimate or consultation.  It will be our pleasure to further assist you, call  407-422-7443
Choice Plumbing Orlando is a full-service Florida plumbing company with plumbers in: Orlando, Winter Garden, Winter Park, Maitland and surrounding.  Search for a plumber near your area
Water Heater Installation (Installation for your store-bought water heater)
Water heater installers are available for your own store-bought unit.  If you purchased a water heater from Home Depot or Lowe's and need a professional water heater installer, we can help you.   Our installation service is licensed, insured and certified and comes with a 1 year warranty.
Learn More: How Do Water Heaters Work
Learn More: Is It Time To Replace My Water Heater
Learn More:  The Truth About Tankless Water Heaters
Learn More: How To Choose A Water Heater