How To Choose a Plumbing Service Near You
Author
Choosing a Plumber in Orlando 
Looking for plumber near me? Are you confused by search results for plumbing companies near you? Here are tips in how to find the best plumber near you.   We provide you easy steps in choosing the most qualified and accredited plumbing service nearby your home and around Central Florida. Most important is that you understand that it pays off to research and hire the right plumber. Because the right choice will insure you a repair service that is to building code, highest standard and with warranty.  It will also assure you that if something goes wrong in your home that the company is insured to protect you and your home.  Your plumbing system incredibly important to your day-to-day life of your family and the value of your home. Imagine not being able to wash your hands or take a hot shower. Or even trying to sell your home and the home inspection discover that your plumbing is not up to code. Here are a few key factors to consider when looking for the right plumber.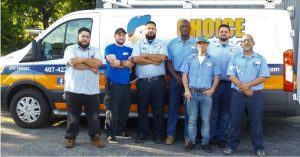 Experience
There's nothing wrong with being the new kid on the block, but when it comes to your professional plumbing services it's always best to go with a plumber with experience. The longer someone has worked in this field, the longer they are likely to have had applicable experience in the past. This experience will give them the knowledge to make quick, smart decisions in your home.
You can check a plumber's experience level by outright asking how long they've been working or looking up how long their business has been established. Here at Choice Plumbing, we've been in business for over 10 years in the Greater Orlando Area. We've grown throughout our time in business, and we understand the needs of Orlando Area residents. We treat our customers like family here at Choice Plumbing.
Online References: The internet is a great resource so put it to good use! If you're looking for a great plumber, you can trust review sites like these:
You'll be certain that you're getting thorough, impartial reviews from sources like these. The ratings, reviews, and pictures provided on these websites make it easy to compare business in your area at a glance.
Phone A Friend: Not sure where to start looking? Ask a friend, colleague, or neighbor who' had a similar plumbing problem and who fixed it for them.  You will be surprised as who they will refer and who they will certainly no use again.
Good Prices
Although a professional plumber that is certified, licensed and insured is not always the cheapest choice, it is the best choice.  A professional plumber will provide you a fair price and options for your plumbing repairs.  If you get an estimate that seems way too high, then it could be a bad sign. Ask for an estimate and shop around. Choice Plumbing Orlando is a company that provides their customers with several options as a solution.  For example, they may provide you an option to repair or to replace your plumbing fixture.  They may even give you an option that is temporary to extend the life of the plumbing fixture until you can afford to replace it with a new unit.
If you need a plumber in Orlando, call Choice Plumbing Orlando today.