Energy-Efficient Solutions for Your Bathroom Plumbing
Author
Energy-Efficient Solutions for Your Bathroom Plumbing: A Close Look at Your Faucet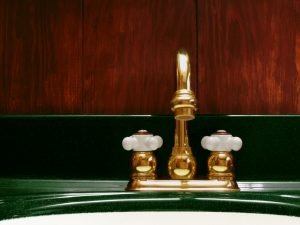 Choice Plumbing Orlando, the best residential and commercial plumber in Orlando, has been taking a close look at ways you can save money and reduce your carbon footprint by optimizing the efficiency of your bathroom. We've taken a look at the shower and the toilet. Today, we'll examine the faucet. We offer 24-hour emergency plumbing services, as well as a one year warranty on all of our work. Contact us today for your next plumbing need!
INCREDIBLE SMALL WAYS TO SAVE MONEY IN YOUR BATHROOM
The Faucet
One important tip that most of us have heard but can be heard to implement is to always turn off the faucet while you are in-between activities in the bathroom. Don't leave the water running while you are brushing your teeth, shaving, cleaning, doing your hair, flossing, washing your hands or performing any other activity where you need the water on and off.
You'd be surprised at just how much water flows out of your sink in three minutes. For example, experts say that simply by leaving the water on while you brush your teeth, you can waste up to 200 gallons of water a month. It doesn't take that long to turn off the faucet.
Another way to save water with little effort is by installing a faucet aerator on the end of your faucet. These handy little guys are small screens that add air into your water flow, thereby reducing its usage. Most of these maintain the feel of a high-pressure flow, so you won't even know the difference. They are also handy for reducing the splash in your sink, which can get annoying if your sink basin is shallow. A faucet aerator is an easy DIY project that is cheap and one of the most effective ways to save money in your bathroom and on all faucets. If you need help, or if we're at your Orlando home for a different plumbing issue, Choice Plumbing can help install these if need be.
If you are in the midst of a bathroom remodel or you are a builder installing new bathrooms, your local Orlando plumber, Choice Plumbing Orlando, recommends that you install a new facet that already has a built-in low flow rate. Touchless faucets are also becoming popular to install in residential bathrooms as well as commercial bathrooms. The great thing about touchless is that they sense when to turn on and off, automatically turning off when you're not using it. These are genius for saving your money and water without having to do it yourself.
Another tip to save money with the faucet in your bathroom is to eliminate leaks. While all those drops may not seem like much, they can add up quickly, and while every faucet leaks differently, on average, one dripping faucet in your home can easily waste close to 2,700 gallons of water in a year. Most of us don't have the time to stand in our bathrooms and watch our faucets for leaks. However. Your plumber in Orlando, Choice Plumbing, specializes in plumbing fixtures can come and do an inspection of your bathroom faucets for leaks. If you join our VIP Membership club, you'll get an annual inspection of your bathroom plumbing every year for one low price. Join today!
Recirculating Pumps
Finally, our last tip, which may seem like a lot of work up-front, will save you money and headaches in the long run. One more option for your plumbing in the bathroom is to install a recirculating pump. A full recirculating pump entails adding in an additional pipe for hot water in your home's plumbing system. The system creates a loop from the hot water heater to your faucet with the express purpose of drawing the unused hot water that is left in your plumbing system after you turn the hot water handle off back to your water heater so the water does not stay in the pipe to get cold. You also get hot water instantly, eliminating the wait (and the water wastage).
One more option is to invest in a recirculating pump that uses the existing cold water pipe to send the water back to the water heater, which can bring hot water quickly on demand. The only problem with sharing the same pipe is cold water may be lukewarm, or take time to get cold. Homeowners have solved this problem too — just turn off the pump in the summer.
Recirculating pumps will definitely require the services of your Orlando plumber, Choice Plumbing, to install the pipe for a full recirculating system and the monitor for either one. These pumps can be a life saver for many, saving time, money, and the environment all at the same time. Your home may already have one installed, especially if you notice you get hot water with no delay. We encourage new home builders to install these right from the get-go to benefit the homeowner and the environment for years to come.
WHY CHOOSE YOUR ORLANDO PLUMBER FOR BATHROOM REMODELS & FIXES
Choice Plumbing in Orlando loves helping people make their lives easier. If you think about it, every improvement you make — no matter how small — can all add up to saving you hundreds and thousands of dollars and hundreds of hours in the long run. Since we all have limited time on this earth, especially limited free time that is ours to do with what we wish, making small improvements in energy efficiency can really pay off.
When you partner with Choice Plumbing, your top-notch local Orlando plumber, you're getting an incredible team dedicated to fixing and improving your plumbing for a lifetime. We'll work around your schedule to set an appointment time that is convenient for you. We guarantee your satisfaction in the plumbing service we deliver. We strive to leave your home better than when we found it.