Energy-Efficient Solutions for Your Bathroom Plumbing: A Close Look at Your Toilet
Author
Toilet Efficiency and Facts
The bathroom is one of the most used rooms in your home. Being such, it's important to maximize the efficiency in this often-used room. One good place to start is your toilet, another frequently used item in your home that could probably be updated, especially if it's been years.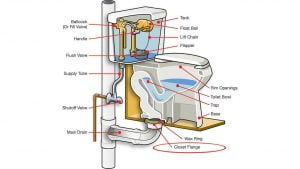 Facts About a Toilet
According to the Alliance for Water Efficiency, the toilet uses the most water in your average home.
If the average person flushes five times, this adds up to about 31% of your household water usage.
40,000 Americans are injured using toilets every year.
The average person will use the toilet about 2,500 times a year.
The cleanest toilet in a public restroom is always the first stall since it is used the least.
More people in Afghanistan have cell phones than flush toilets.
World Toilet Day is November 19th.
The Toilet
Toilet made between the years of 1980 to the year 1982 typically used about 3.5 gallons of water every time you flushed. Before that, toilets used five gallons (think five milk jugs) every time you flushed. And for really old toilets, that number could climb to about eight gallons.
Thankfully, there have been numerous improvements in toilet flushing since then, saving water and your money being flushed down as well. There have been several different toilets hit the market since 1992 thanks to a federal law that requires low efficiency toilets be manufactured and installed that use an average of 1.6 gallons per flush.
Dual-Flush Toilet
Dual-Flush toilets. These toilets have two flushing options that allow you to adjust the amount of water used in order to conserve water. We recommend that if you do have an older toilet to replace it, not only to conserve water, save money, and help the environment, but also because it is probably outdated, and you deserve a nice, new toilet.
Duel-Flush Toilet Brands and Models:
Kohler
Niagara
Glacier Bay (Via Home Depot)
However, if you insist on keeping your old toilet, you can help regulate the amount of water used when you flush by installing a secondary flush mechanism. This is something your plumber can help with. You should regularly have your toilet inspected by your professional plumber for leaks, corrosion and inefficiencies.
Toilet Plumber
If you need a plumber to repair or install a toilet call Choice Plumbing Orlando.  Choice Plumbing Orlando is a family-owned and operated plumbing company servicing Orlando and Central Florida.   They are state licensed, insured and certified. You can read more about the company's credentials and reviews.