The Benefits of Getting Drains Professionally Cleaned
Author
Benefits of Drain Cleaning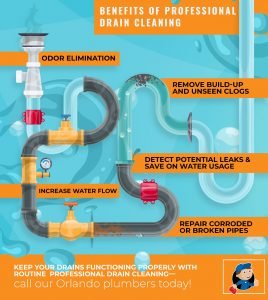 Drains are an important aspect of your home plumbing system. But if you can't see what's going on inside of your drain, it's harder to guarantee that everything is functioning properly.
Don't take the "out of sight, out of mind" approach to your home's plumbing. Instead, plan ahead with professional drain cleaning and plumbing inspection services.
Choice Plumbing Orlando is the right choice if you're looking for Orlando plumbers to help with your home or commercial business. Contact us today to get your draining cleaning service scheduled — or if you need help with a clogged drain or any other plumbing service.
Get Your Drains Professionally Cleaned
Like you have your car or HVAC routinely serviced, it's a good idea to get your drains professionally cleaned before you experience any problems with them. Read through some of the benefits that come from planning ahead and regularly cleaning your drains.
Eliminate Any Odors
If you notice an odor coming from your pipes, it might be more than the expired dinner you just put down the disposal. Even if your drain isn't clogged or backed up, the odor might be the result of a clog or blockage deeper in your drain.
When you have your drains professionally cleaned, our Orlando plumbers will clear out all blockages and remove anything in the pipes that could cause an odor or other problems if left long-term.
Save on Your Water Bill
If your drains are clogged, that could be causing a water leak somewhere in your pipe. If that's the case, then your water bill is reflecting that higher water usage, also causing an increase in your water bill. When a professional plumber comes out to clean your drains, they'll also inspect your pipes for leaks. Once any clogs are removed and the leak is found, you'll notice a decrease in your monthly water bill.
If your plumber is inspecting your pipes outside for leaks, you don't have to worry about any damage to your landscaping. Our Orlando plumbers can detect leaks using noninvasive infrared leak detection equipment.
Prevent Clogged Drains
One of the most obvious problems that comes from not having your drains cleaned out is that you can end up with a clogged drain. While smaller clogs can start to cause some problems, blocked pipes can cause serious damage to your plumbing and even your home. Instead of waiting for your drain to block, plan ahead and have your drains cleaned.
Repair Damage in Your Plumbing
The tricky thing with plumbing is that damage isn't always obvious, especially if it's not causing problems with your drainage or water flow. During a professional drain cleaning appointment, our Orlando plumbers will inspect your drains and plumbing to ensure there aren't any other problems, like tree roots in your piping, corroded pipes, or leaks that are hidden or not noticeable.
Improve Your Water Flow
Your drains don't have to be clogged for your pipes to have trouble. Any amount of build-up or sediment in your drains and pipes can restrict the water flow. This becomes a problem if you increase your usage during a party or if you have more people in your house. Suddenly, your pipes won't be able to handle the extra water, causing problems with your pipes backing up or not draining properly.
Instead of waiting until it becomes a problem to clear out that sediment, have our Orlando plumbers clean your drains and ensure that your pipes can handle any water usage increases.
Eliminate Expensive Repairs
As we've already alluded to, dealing with a clogged pipe can go beyond unclogging that drain. Water can fail to drain or even back up if there's nowhere else for that water to go. In the end, you might be dealing with water leaks, burst or damaged pipes, sewage backups, and other costly repairs. When you choose our Orlando plumbers, we're here to help save you from those expensive repairs by offering services like professional drain cleaning and leak detection.
Clogged Drain Cleaning Service in Orlando
We hope that this post helped you better understand the benefits of having your drains professionally cleaned. Make sure you have a team of Orlando plumbers you can trust with any of your plumbing needs. Contact Choice Plumbing Orlando for a fast and reliable Drain Cleaning Service 24/7 around Central Florida.
While you're here, make sure you take a look at the rest of our blog to learn more about our plumbing services and find solutions to common plumbing problems like clogged drains: