The Truth About Tankless Water Heaters
Author
Facts About Tankless Water Heaters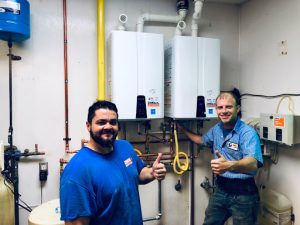 The Truth About Tankless Water Heaters.  Are you thinking about upgrading your water heater? Winter is normally the time of year where homeowners across the Greater Orlando Area start to notice that their water heater isn't exactly up to the task. If you're ready to make the switch to a new system, consider going tankless this year.
There's a lot of inaccurate information that goes around when the topic of tankless water heaters is brought up, so we're here to clear up a few things. If you'd like a quick crash course in everything tankless water heating, then keep reading below.
Here are a few big things you need to know about tankless water heaters.
They Go by Many Names: If you're on the market for a tankless water heater, it's important to note that many people refer to these systems as "demand," "on demand," or "instantaneous" water heaters too. Don't get confused if you see the terms used interchangeably.
How They Work: Tankless water heaters work by heating the water that you need as it moves through your system rather than heating it in advance and then having it on standby. For example, when a hot water tap in your home turns on, your gas burner or electric heating element begins to heat the hot water in your home.
Energy Efficiency: Because tankless water heaters only heat the water you need you to save a lot on energy costs. For homes that use 41 gallons or less of hot water per day, a tankless water heater can perform at 24%-34% higher efficiency than conventional storage tank systems.
You're a Great Candidate for a Tankless Water Heater If…
You're Limited on Space
If you don't have a ton of space in your home, a tankless water heater is probably the perfect system to accommodate your needs. The footprint of a tankless water heater is much smaller, so it frees up additional space in your home or garage.
You Want Endless Hot Water
Because tankless water heaters only heat up the water that you need when you need it, you'll never have to worry about the shower running cold halfway through again. A tankless water heater is a great system to go with if you have a big family or just a home with a high hot water demand. If you've ever considered upgrading the capacity of your tank water heater, we recommend that you switch to a tankless system. This alternative is energy-efficient and smarter for practical purposes.
You Need a Long-Lasting Product
Do you want an appliance that will last for years to come in your home? A standard water heater will normally last you anywhere from 8 to 12 years, but a tankless water heater will perform well in into the 20 to 30-year range. It's true that the installation prices are higher for tankless systems, however, the long lifespan offsets this. This means that you'll get far more bang for your buck.
Conclusion on The Truth About Tankless Water Heaters
The Truth About Tankless Water Heaters is that they are designed to be advantageous for certain type of use and application, they are not the best solution for everyone and in every need.  If you need more technical information, you can find out about the most common tankless units at Navien  or Rinnai
More about Tankless Water Heater Sales, Installation and Repair