Finding the Best Plumber Near You
Author
How to Find the Best Plumber Near You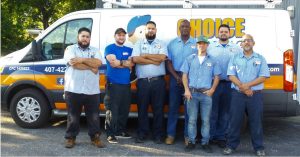 As a homeowner, there are a lot of things you have to take care of, ranging from managing the utilities to maintaining your appliances, electricity, and plumbing. But when the core of your plumbing is hidden in the walls and floors, you depend on a plumber that is skilled, experienced and certified.  So, how do you find and choose the best plumber for your problem? We have put together a list of tips to help you avoid the common mistakes and hire the best plumber in Orlando and Central Florida.
Choosing The Best Plumber
From skill to satisfaction, to warranty, there are a lot of elements that go into choosing any service company — especially a plumbing company.  Because we've been around for over 27 years, you can trust that we've witnessed many failures and learned from many stories shared by customers like you.
Experienced Technicians
When you have a plumber repairing or replacing fixtures or piping in your home, you want to make sure you have plumbers who know what they're doing.  You want to verify that the plumber providing the repairs is extensively trained and qualified to handle plumbing problems like yours. Some plumbers may be certified and skilled to repair water heater related problems but, that doesn't make them a drain or sewer expert.
All Your Plumbing Services Needs
Always hire a company that is diversified and has a team with all the plumbing skills and certifications.  This is important because, if your sink drain is clogged you will need a drain cleaning rooter plumber but what if that plumber discover that the problem is your garbage disposal, which is part of your kitchen sink drain system? Does he have the needed skill to replace a garbage disposal?
Always hire a plumbing company that has a diverse skilled plumber that can fix any issue at any time.
Pricing
An honest plumber and plumbing company will always be transparent and provide clear understanding their prices including, a complete breakdown of material cost.  Because you may be on a budget constraint, you should demand options.  For example, Choice Plumbing Orlando provides their customers with multiple option and prices. Such options maybe to repair the problem, replace with new fixture or simple contain the problem so it can be repaired in the future.
Basic Expectations 
You should have at a minimum, the following expectations when hiring a top-rated plumbing service.
Fair and upfront pricing
Professional Plumber that is skilled
Licensed and Insured Company
Guaranty & Warranty
Friendly and respectful plumber
Emergency Plumbing Assistance
Plumbing emergencies happen, and when you have water filling your basement or spewing out from a pipe, you don't want to wait until the morning to call a plumber. That's why Choice Plumbing wants to make sure we're available when you need us the most.
Our emergency plumbing services are available 24/7, and with no extra charge! Plumbing emergencies that are ignored or not fixed immediately can cause serious damage to your home and plumbing system. Speak with a plumber over the phone and get any emergency plumbing service!
One-Year Warranty
Along with an experienced plumber, you also want to find a plumbing company that stands by their work. At Choice Plumbing, we know you can trust our Orlando plumbers. In order to make our clients our top priority, we offer a one-year warranty on all work we do. This warranty ensures that you get the best plumbers for your plumbing needs.
In addition to our one-year warranty on work, we also offer a 135-day guarantee on drain cleaning.
Commercial Plumbing
Plumbing needs extend beyond homeowners. If you own or operate a commercial building, it's just as important to ensure that all of your plumbing is fully functional — no matter the time of day.
Our Orlando plumbers are here to help with our commercial plumbing services, available 24 hours a day. Just like with our residential emergency plumbing services, we offer assistance for emergency commercial plumbing at no extra charge.
Whether you manage a commercial building or own it, make sure you have a team of Orlando plumbers you can always rely on. From our one-year warranty on all work to our Choice Plumbing Guarantee, you can't go wrong when you choose Choice Plumbing.
Find a Plumber Near You in Orlando Area
If you're looking for a plumber near you or a plumbing company in your town, find a plumber for these Orlando areas HERE
There are many factors to consider when choosing a plumber in Orlando or around Central Florida. We hope that this list helps you better understand what things you should consider before hiring a plumber.
Choice Plumbing Orland provides a Plumber for: